Memorabilia Framing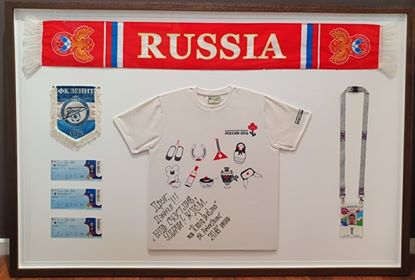 Thinking of framing something special? Art & Frame is the perfect place for framing all of your memorabilia, medals and personal affects. We take great pride in creating a custom frame to suit your treasured items. There is nothing that cannot be framed, whether it be war medals, a sporting guernsey, flags, plaques, and other items and oddities.
War Medals:
If you are hoping to frame your military service medals or those belonging to a member of your family, we will take you through a custom framing design, giving you something truly unique and helping to best display these medals and plaques. To make a truly custom experience we can frame the medals, plaques and photos all in one, creating not only a unique frame but a unique composition of military memorabilia.
3D Object:
In order to frame a 3D object, we do what is called shadow-box framing. This simply means we use a frame with enough depth and rebate to give you item room to fit, looking as though it is floating in the middle of the frame. There is nothing too difficult to frame, we've done everything from spoons, spanners, hammers and even rocks. If an item has sentimental value, and you want it framed, it can be framed.
Sporting Guernsey:
If you've got a sporting guernsey you wish to frame, we can create a tasteful design to help you proudly display your teams' colours. There are a number of ways to approach framing guernseys, we can keep it relatively simple, allowing the Guernsey to do all of the talking, or we can frame it using matboards matching your teams' colours to really make the guernsey pop. We can also incorporate photographs and plaques into any of these custom guernsey framings, creating a larger and truly spectacular display.